Calling all video gamers! Dis you know LydiaCosplay turns your favorite virtual characters into costumes? Lydia created this intricate Cicero from Skyrim costume that has perfect attention to detail.
Cicero costume by Lydia is perfect for you who's a fan of Skyrim. If you want to cosplay as Cicero or just want to share for a costume party, Lydia's design is a great choice.
The Cicero outfit is made with detail in mind. Every stitch and patch are exactly like the characters. The costume comes with velvet pants that are dimensional in fabric, a top, and boots. The top is a lace up vest that has patches and appearance of dirt (not real) in all the right places. The boots covers have gold trimming and fold over. The Cicero outfit is paired with a "joker" hat and collar to pull the character's costume together.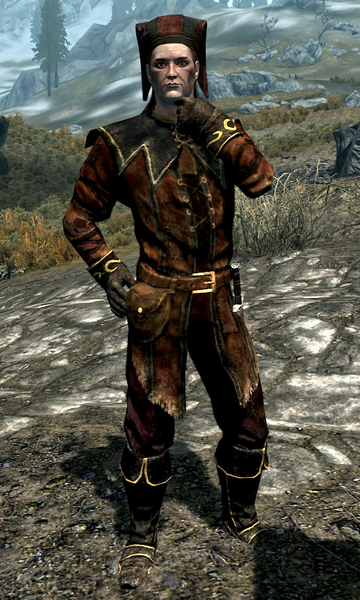 This
Cicero costume by Lydia
is diverse in detail successfully. Lydia dives into how the costume can look exactly like the actual character of Cicero. Lydia pays meticulous attention to fabric and color to perfect the tiniest details.
Any costumes or Dress in the store can be customized. What does it mean? This means that no matter what measurements you are, Lydia will customize your costume or dress to fit well. that fits you just right. Therefore, if you like to customize Cicero costume, you should provide your exact measurements with Lydia.
What is the measurements needed? Just your Height, Chest/Bust, Waist, Hips, Shoulder width, and Weight if available. There is a size chart explaining how to measure. If you have any measuring questions, just contact with Lydia. Lydia will fix it for you as soon as she can.
Lydia made this Cicero outfit for a customer named Nick. Lydia "made the Cicero costume for him within 20 days. (she was) so glad (her) customer liked it so much after he received it." This was a costume Lydia had never done before. However, she will work on any new project rigorously for her customers. Nick loved his costume and is getting plenty of use from it, thanks to LydiaCosplay.
If you decide to cosplay Cicero, you can just have it from Lydia. How to order it? You can visit here the Lydia Cosplay store online to get your Cicero from Skyrim costume.
The Cicero from Skyrim costume is a unique and detailed piece from LydiaCosplay. Every stitch and patch are placed with precision and you can see the effort and love Lydia put into the accuracy of the design.