Elsa is powerful and strong, and now you too can look and feel as powerful and strong as the Frozen princess. LydiaCosplay version of Elsa dress is a beautiful gown that Lydia has been changing and upgrading in design since 2013.

What Does LydiaCosplay Frozen Elsa Dress Look Like?
This is the perfect Elsa dress for anyone who wants to look like Princess Elsa. Whether you want an excellently made costume for a cosplay event or a Halloween party, LydiaCosplay has you covered with this beautiful and accurate princess Elsa costume.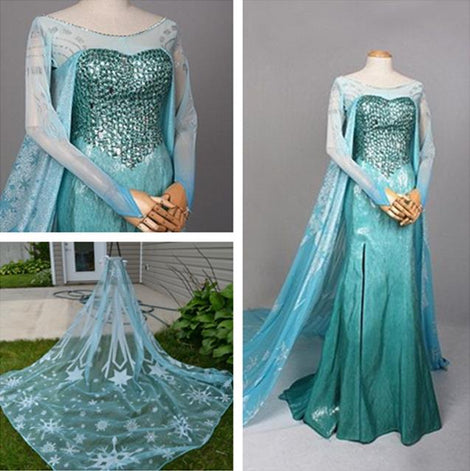 The Frozen Elsa dress is a beautiful masterpiece with interesting and unique details that pull it together. The Frozen Elsa gown has a sequin bodice that shimmers with dozens of blue rhinestones. The skirt of the dress is a beautiful teal blue shimmering satin. The dress comes with a long cape attached that runs on the floor behind you. The cape is a transparent blue fabric with little silver snowflakes embroidered on. The neckline and arms are made with a similar, delicate fabric to bring the dress together.

The Frozen Elsa costume has the exact look of a princess Elsa dress with details thought out and put intofe action by Lydia. You will sparkle and shine in this Elsa gown.

What Size Do I Order?

One of the best things about LydiaCosplay is that they have custom sizing. This means that no matter what size you are, LydiaCosplay can make a dress that fits you just right. They also have standard sizes 0- 12 that you can order from without sending your measurements. All dresses are handmade with love and precision.

For custom orders, send the measurements of your height, bust, waist, hips, and shoulders. On LydiaCosplay's website there is a chart explaining where to measure and a size chart to know if you should order one of the standard sizes or send in your own measurements. Lydia will make it easy for anyone to get a dress that fits them perfectly.

What are the Other Details?

According to Lydia, "there are more than 450 beads in the top and 635 small beads near the shoulders and sleeves." This attention to detail is what makes Lydia's handmade Elsa gown so perfect. Lydia also mentions other details of "the finger hoops, which is as same as Elsa in Frozen. The dress comes with the cape, which is Frozen version style." Lydia worked on the design since 2013 and has come up with the best product possible to capture the essence of Elsa. The Frozen Elsa dress is on sale right now for $199, which is a great price when you consider the quality of the dress.

Other Details About This Elsa Costume

If you've been looking for your next costume, LydiaCosplay has it. Go to the LydiaCosplay site to order your own Princess Elsa costume.

Conclusion

The Princess Elsa dress is an accurate representation of the princess outfit. You will sparkle and shine in this dress and shock viewers frozen to the core with its beauty.